As the weather cools and the days get shorter, we know that winter is fast approaching – and with it comes bad weather and storms. So now's definitely the time to make sure you deal with any dodgy trees on your property, to prevent them from becoming a real problem later on. To ensure the job is done effectively and safely, it's best to call in the professionals with the right equipment.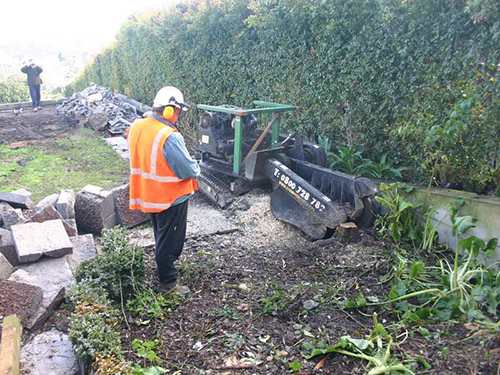 Getting the job done properly
With more than 30 years' experience in the tree-care industry, Stump Busters are your specialists in the greater Auckland, Hamilton and Thames areas – we know how to get the job done right.
Over the years we've come across many reasons why trees need to be removed. In most cases it's because they've become diseased and died, making them a potential hazard. Others are simply located in the wrong position on a property, or they're in the way of some or other planned development, or perhaps their root structure is causing damage to nearby buildings or underground pipes. Once your tree has been removed, it's also very important to invest in the removal of its stump. Neglecting this can completely defeat the whole purpose of having the tree removed in the first place.
Expertise and the right tools
No matter what your reason for removing a tree, or how big or small its stump might be, our professional team has the expertise and knowledge to safely grind its stump. Also, we have access to all the right equipment to ensure we can safely do this without causing unnecessary damage to property or surroundings. Often we have to negotiate tight spots or get into hard-to-reach places with limited access – it's at times like these that our team's expertise and knowing which piece of equipment to use, and how to use it, that saves the day.
New service coming soon
Speaking of specialist equipment, we're eagerly awaiting the arrival in April of our latest acquisition in the shape of a Cat 305.5E CR Excavator. The Cat 305.5E CR has a reputation for exceptional performance in tight applications, which is just perfect for the type of work we do.
Furthermore, our new purchase will be fitted with a Rototilt® coupler, which is the leading player in tiltrotator systems for excavators and backhoes, and touted as the world's most advanced control system with the safest quick coupler locking function. You won't believe how agile and deft this makes our new machine, giving us the ability to be able to reach into tight spots with almost surgical precision.
Great support to landscapers and arborists
Attached to our new Cat will be a Rata 4 in 1 bucket, which will enable us to use just one tool to dig, blade, pull back and clamp up. Not only will this make our work much easier and enable us to work a lot quicker, but it will also be a great help to any landscaper with whom we've teamed up on a job.
Finally, the new Cat will also be equipped with a Rata Versatile Grapple, which is one of the most useful tools you can imagine. Its name actually says it all – 'Versatile' – as it is good for many varied applications, including dealing with logs and tree removal. With this attachment, clean-up after the arborist has felled the tree by feeding the logs and big branches into the arborist's chipper will be an absolute breeze.
Professional, specialised services you can rely on
With years of experience, the latest specialist equipment, and a fully insured service for your peace of mind, Stump Busters is the team to call when you need a stump removed properly. With the arrival of our new Cat 305.5E CR Excavator and its many versatile capabilities, we can now also provide more integrated support to arborists and landscapers on an even wider range of landscaping projects.
Contact the team at Stump Busters today on 0800 728 782 to discuss your requirements and to arrange for an on-site, obligation-free quote.