Stump Busters: Auckland's
#1

Tree Stump Grinding Business
Now offering our Stump Grinding Services in the greater Waikato and Thames Area.
With thousands of happy customers, 'Stump Busters' is the right tree grinding service and choice for you! Simply put we are the most trusted and experienced Stump Grinding and Tree Stump Removal Auckland and Waikato business. Looking for a stump grinder in the greater Auckland, Thames, and Hamilton areas?
For tree stump removal service, call Stump Busters now, so that we can organise a time that is convenient for you, to have one of our professional staff members inspect the Tree Stumps that you need removed and give you a free and accurate quote.  At the same time as providing you with a quote, we will be able to assess the site for access to machinery and any specialist equipment that might be required. Our experienced staff will be able to answer any questions you have and advise you on the best solution to get rid of unwanted Tree Stumps so that you can replant, build, concrete, pave, or turn back to lawn the area where the stump used to be.  We also sell stump grinder gear and related stump removal products.
Stump Busters utilizes the latest in Stump Grinding technology, from our Alpine Stump Grinder that is used for hard to get to places like raised gardens or on steep banks to our tracked machines that are operated by remote control. At the business end of the machines is the cutting disc. The special cutting teeth on the disc literally cut across the face of the stump, back and forth, turning the stump to wood chips. Our experienced machine operators will grind the stump down to the correct depth and will also remove as much of the root system as is needed, to leave the earth ready to be replanted or built on. Check out our Gear Page.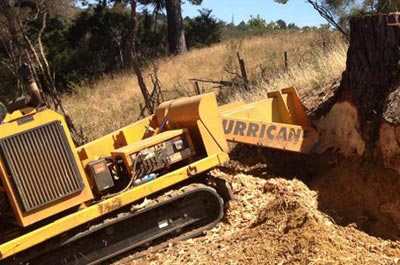 Once a tree has been cut down, the stump and roots remains in its place. Stump removal needs specialised stump grinding machinery and equipment. Stump grinding is an efficient way to get rid of a tree stump as removing the tree stump and roots is a special job that only qualified stump grinder professionals can perform. Stump removal is often an essential step in replacing the tree or doing other work in the outdoor area. Stump Busters provide mechanical stump grinding service, which means fast and efficient stump removal. Find out more about this local stump removal service or get in touch with our team to request a free quote.
JULIAN CLOUGH – MACHINE OPERATOR
Out side of work I enjoy spending time with family and friends, traveling and trying new things, in my spare time I like relaxing, watching movies or playing on my computer. The things that motivate me are family, traveling, my responsibility's within stump busters and just the sense of accomplishment after a hard days work out stump grinding. There are many reasons why I enjoy working for stump busters, the people I work with are awesome, meeting new people, learning new things, seeing amazing houses and landscapes and the variety of work.
Stump Busters Recommends These Tree Services / Landscaping Companies
We have thousands of happy customers. Let's see what some of them have to say!
Dave and Katie are absolutely amazing!!!! Communication A++++ Emailed for quote on Monday and the job was done and finished by Tuesday afternoon. Highly highly recommended!!!!
We've used stump busters twice now and they're great. Show up promptly, great communication, easy removal. 10/10
Katie turned up, had the job sussed in no time, was personable and did a great job. Accurate quote and well priced, will be recommending to friends and family.
YOUR LOCAL TREE STUMP REMOVAL AND STUMP GRINDING SERVICE
WE SERVICE THE GREATER
AUCKLAND, HAMILTON

AND

THAMES AREA

.
STUMPBUSTERS
88A Baird Road, Pokeno, Waikato, New Zealand
EMAIL
info@stumpbusters.co.nz