Stump removal – Things to consider
Spring, summer and autumn are always the most active time of the year for gardeners. It's a time for seeding and mowing lawns, planting, trimming and weeding, and for getting stuck into all those small/large landscaping projects you dreamed about tackling during the winter. It's also the perfect time to get any pesky trees or tree removal stumps lurking in your garden.
Not that we don't love our trees, of course! In fact, if you're like most Kiwis, you probably love your trees to bits. Sometimes, however, a tree can become a problem – when that happens, it's best to make quick work of tree pruning it.
Tree and stump removal – some considerations
Of course, there are a number of things to consider when determining whether it's necessary to remove a tree. The most obvious is the health of the tree – is it sick, dying or already dead? Does it have a disease that it could pass to other trees? If yes, then it may be time to get rid of it.
Also, if any tree on your property is in danger of falling over, then it's best to get it removed as quickly as possible. A hazardous tree can cause significant damage to both property and people – it's always better to consider safety than being sorry.
When cutting down a tree, it would be wrong to assume that simply because the trunk and its branches and leaves are gone that all your troubles are over.
For example, if you're planning to sell your property, or even if you're staying put but simply want to do some landscaping to improve the aesthetics of your home, then you may want to consider removing that unsightly stump that's sticking out like a sore thumb in your garden.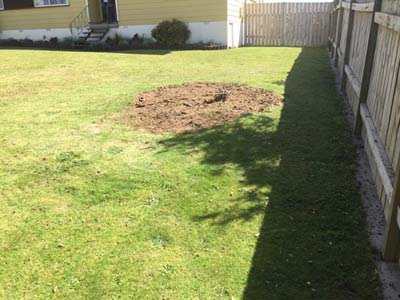 A dead tree stump in your garden isn't really an attractive feature for potential buyers – and if it's in your front garden, that could spell the end of your home's 'curb appeal'. Even if the old stump doesn't bother you, to a potential buyer it may look like a really troublesome project. Stump removal is one way to keep your garden looking neat and tidy, making it attractive to prospective buyers and admiring neighbours alike.
Removing tree stumps
While many homeowners tend to leave the stumps behind after removing a tree from their garden, doing so is not a permanent solution. A stump left in your garden is often the last remains of a tree-gone-wrong and therefore it should also be viewed as having outstayed its welcome!
Leaving a stump behind can pose a hazard to people and any future landscaping or building work. Remember, there's always more to a tree stump than meets the eye. Depending on the type of tree, the roots can run wide around the stump itself, and deep into the ground.
Many people seem to think that if a tree is cut down below ground level, then it can just be left buried without any worries or consequences. However, it's very important to realise that some species of tree can regenerate from root material left buried in the ground. If the tree was removed to make way for a construction project, for example a walkway, driving or paved patio, or even an addition to your home, then leaving behind root material of such tree species can result in expensive consequences later on.
A tree stump can also make lawn mowing difficult (if it's situated in or close to the lawn) and it can attract harmful insects and other pests. Stumps can even foster and spread diseases to other plants in your garden. If the tree was rotting or had some disease, the problem could have easily made its way into the trunk too. Having a festering stump near your other healthy plants could be bad news.
So, when your remove a tree from your garden, it's always best to also remove its mulch.
Your best stump remove option
People often make the mistake of thinking that removing a tree stump is a more straightforward operation when compared with cutting down the tree itself, but this is not necessarily the case. In fact, tree stump removal can be deceptively hazardous and downright dangerous if handled improperly.
The quickest, most efficient and most effective method for getting rid of a stump is by means of stump grinding – grinding away both the stump itself and any surface roots. This minimizes the chance of re-growth, makes the area safe and leaves the ground ready for landscaping or any other intended purpose. It's like tree was never there!
Tree stump grinding is a highly specialised job that not only requires proper training and expertise but also specialised machines to ensure stumps are removed safely and efficiently. Therefore, stump remove should always be left to the experts, which is why it's important to have a Waikato and Auckland stump removal company like Stump Busters on your side.
Your professional stump removal and stump grinding service
At Stump Busters we specialise in all aspects of tree & stump removal – our skillful, experienced team are trusted experts in stump grinding across the greater Auckland, Hamilton and Thames areas.
Stump Busters' founder Dave Ruck has more than 30 years experience in the tree care industry and the team at Stump Busters have been expertly grinding tree stumps of all shapes and sizes on residential and commercial properties, including golf courses, in public parks, gardens and reserves, and at schools and hospitals for more than a decade.
We have the latest range of specialist stump grinding equipment, our stump grinding work is fully insured for your peace of mind and we provide free, no-obligation, on-site quotes for stump removal. For more about the average cost of tree stump grinding, read our stump removal costs page.
So, if you're in the market for a experienced, specialised stump grinding service that you can rely on, and at an affordable price, then contact the team at Stump Busters today, email or call us on 0800 456 026 to discuss your requirements and to arrange for an on-site, obligation-free quote.