Tree Stump Removal Machinery
Welcome to our Stump Grinding Gear page. Here's a brief list of the stump grinding gear and tree stump removal machinery that we use. A lot of research goes in to choosing the right equipment before we buy it, to ensure that we are offering and operating the best machines and cutting systems that we can offer our customers. We constantly keep an eye on the industry and investigate new technologies and implement any that provides an improvement in performance and quality of the completed job.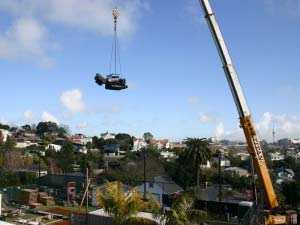 The Carton 8018 Stump Grinder is one of our big work horses.  The track system on this baby allows it to operation over a wide range of surfaces and ground conditions.  The big motor has tonnes of grunt to get the job done and surprisingly for its size, it still operates in some pretty tight spaces.  That tree stump will be gone in no time with this beast.
the sole purpose of grinding a Tree Stump that is in a difficult location where it would be impractical or impossible to use a bigger machine. It's comparatively small size belies its ability to get the job done. The Alpine regularly gets pulled off the truck to deal with those hard to get to tree stumps. Here's a recent example from one of our customers who got in contact with us after a job was completed with this machine.
"Customer Jan Gobbeth rang today – Bonnie attended, quoted and completed the job for Jan and she wanted it passed on that Bonnie did a superb job, she had to carry the alpine up stairs and through the house and grind the stump without affecting any of the other plants in the area. Bit of a legend!
Thanks
Stump Busters Management Team
So If you have a hard to get to Tree Stump that you would like to have removed then call us today for a free quote.

Sometimes we have to get this Big Boy out of our Stump Grinding Toolbox.
When the going gets tough you can either pack up and go home or you can stay and get the job done. This monster does the business!
When you are confronted with a tree stump that is the size of a car or you have row upon row of stumps then our Hurricane Stump Grinder is the machine for the job.
The Hurricane eats Stumps all day long. We have operated this machine on
Golf Courses
Landscaping works
Land Development Projects
Motorway and Highway Berms
Stump removal from Shelter Belts that have been cut down
Any Tree Stump where normal Stump Grinders just aren't going to cut the mustard.
We ain't Afraid of no Stump!